2023 Strategic Partnerships Are Now Available!
The Caldwell Chamber of Commerce is taking our business partnerships to the next level. Many changes and new opportunities will be available in 2023, including working more closely with our local Hispanic Chamber of Commerce, pursuing grant opportunities to support local businesses, class-like presentations for member functions by our local businesses, etc.
Become a Strategic Partner and be the first to know, provide ideas, and participate!
$7,500
Additional Benefits of Sponsorship Include:
Company name displayed on the home page of the Caldwell Chamber's website throughout 2023
Company name included in pre- and post-event advertising as a Strategic Partner
Opportunity for a speaking role, such as welcoming, speaker introductions, or closing remarks at events
Opportunity to provide message from company's CEO in the printed program for a variety of events
2 Tickets at ALL 2023 Noon Break Luncheons with your company name and logo on table as Strategic Partner
2 Tickets to our Farm to Fork Bridge Dinner
First right of sponsorship renewal for the following year
Recognition in day-of event materials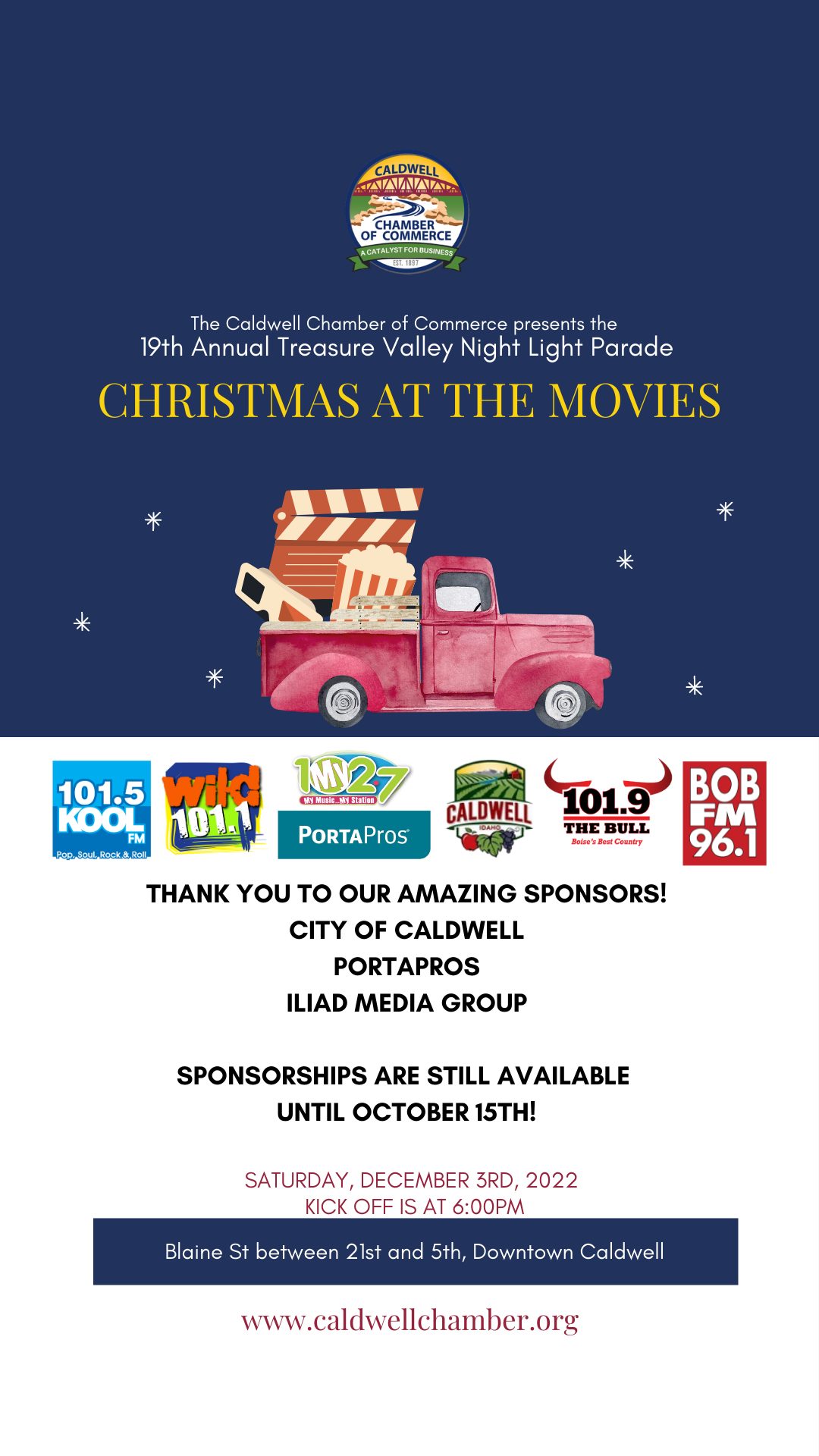 Treasure Valley Night Light Parade
We are excited to announce the 19th Annual Treasure Valley Night Light Parade will be happening in Downtown Caldwell on Saturday, December 3rd, with a kick-off time of 6:00 PM! Our theme this year is, "Christmas at the Movies!" This theme invites creativity - not only could floats be themed like, "The Grinch," "It's A Wonderful Life," "Miracle on 34th St," and even "Die Hard," but our float entries can have themes like, "Jurassic Park," but put Christmas wreaths around the necks of the dinosaurs or "The Lorax," but make all the trees Christmas trees instead of truffula trees!
PLEASE KEEP THE FLOAT FAMILY-FRIENDLY. No gore, sexual themes, or violence will be permitted and your float will be denied entry on the day of the Parade.
Our poster will be printed in mid-October. This is your LAST CHANCE for sponsorships, as the logos of all sponsors will be on the poster. All sponsorships are DUE OCTOBER 15TH. For Sponsorship Information, head to our event page.
To download a Parade Entry application, head to our event page. Payment and applications MUST be turned in by Friday, November 18th.
To sign up your business, fill out the Parade Entry Application and send a check written out to the Caldwell Chamber. Or you can go to the event page and register your business there.
THERE WILL BE NO VENDORS PERMITTED AT THE NIGHT LIGHT PARADE THIS YEAR.
We look forward to continuing this tradition this season! Happy (early) Christmas!