Buckaroo Breakfast at Caldwell Events Center
SPONSORED BY
WEST VALLEY MEDICAL CENTER
Special thanks to our Gold Buckle Sponsors
D & B Supply || American Rooter & Drain || PortaPros || Homes of Idaho || St. Luke's Health System
The time honored tradition of Buckaroo Breakfast will be celebrating 88 years in 2022! Cowboys of yesteryear and today have been hosted by the Chamber and the Caldwell Night Rodeo with a big, hearty breakfast to start their day off in the arena as they chase that gold buckle. The public is invited to start the day off rodeo-style all week long! Sponsorships for food, entertainment, rentals, and activities are encouraged for partnership.
2207 Blaine Street
Caldwell, Idaho 83605
August 16th - 19th // 6:30 am - 9:30 am
August 20th // 7:00 am - 10:00 am
Ticket prices: $10  // Adult
$8 // Senior (65+) and Child (Under 10)
Buy for the week, eat for free on one morning!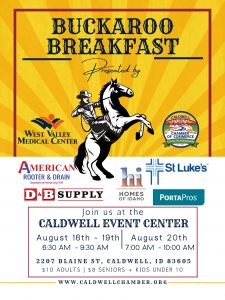 Tickets are available at
Buckaroo Breakfast Ticket Sales
For sponsorship opportunities contact
info@caldwellchamber.org