It's back and better than ever!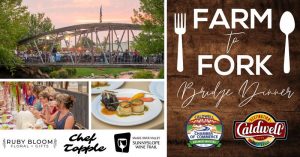 We are pleased to announce that the Bridge Dinner is returning to Downtown Caldwell on September 10, from 5:30-9:30 PM! This farm to fork experience is curated by renowned local Chef, Steve Topple from Ragazza di Bufalo and features wine pairings from local wineries along the Sunnyslope Wine Trail, including Huston Vineyards, HAT Ranch Winery and Vineyard, Williamson Orchards and Vineyards, and Indian Creek Winery with décor and ambiance provided by Ruby Bloom.
Tickets are $125 per person. Seating is limited, so purchase yours today!
https://indiancreekplaza.square.site/farm-to-fork-bridge-dinner
Optional Pre-Dinner AgVenture Tour Experience (Add On)
Mason Creek Flower Farm Picking: $30 per person/$50 per couple
Please Note: Only 30 tickets for pre-dinner AgVenture experience are available.
Add on Includes:
 Transportation to and from Indian Creek Plaza in downtown Caldwell-
A Bouquet/Jar of Flowers
1-2 High Resolution Images by Professional Photographer
This event is hosted by Destination Caldwell & the Caldwell Chamber of Commerce. A very special thank you to D. L. Evans for being our first sponsor for this event! There are other sponsorship opportunities available; please contact info@destinationcaldwell.com for more information