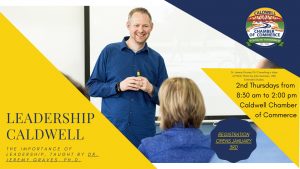 The annual Leadership Caldwell course will begin on March 10, 2022, at 0830. The course is the second Thursday of every month for 9 months (through November 2022). This year's course will be taught by Jeremy Graves, Ph.D., from Boise State University. Jeremy Graves has spent the last decade working in Idaho communities to tackle some of our biggest challenges, from helping families in crisis to ending homelessness. Now teaching and serving as Assistant Director for Boise State's Professional and Continuing Education (PACE), Dr. Graves says, "I hold a doctorate in transformational leadership and work in both for profit and non profit circles. I long to see individuals connect their values to their every day work. Once individuals find what they are passionate about, work ceases to be mundane and turns into something life giving and life changing. I desire to be apart of organizations that honor and value integrity, innovation, creativity, and fun."
If you would like to participate in this incredible learning experience, please sign up here:
https://forms.gle/Ai3CCpP5FXLmn6KX6
To keep the experience on a personal level, only 30 applicants will be participating, so sign up soon!
Ag-Business Speaker Series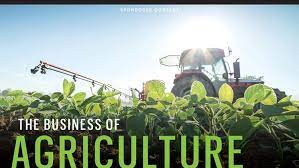 The AGBUS Committee will be hosting several free meetings featuring guest speakers this year. The Speaker Series will begin on February 2, 2022, with featured speakers Senator Van Burtenshaw, Chair of the Senate's Agricultural Affairs Committee and a rancher himself. Also featured will be House Representative Clark Kauffman, a local farmer, who sits on the House Resources and Conservation Committee.
Head to https://business.caldwellchamber.org/events/details/agbus-speaker-series-5827?calendarMonth=2022-02-01 to register. All registrants will receive access to the Zoom link. In-person space is limited.
You won't want to miss it!