The mission of the Caldwell Chamber Ambassador program is to enhance the Chamber's visibility in the community and act as the goodwill arm of the Chamber. Ambassadors act as liaisons by developing and nurturing relationships with both current and potential members. Ambassadors are highly visible within the community, are an active part of our functions, and are the heart and soul of our Chamber.
Brad Burbank
Allegis Financial & Allegis Casualty
Lisa Anzaldua
Idaho Department of Labor-Canyon County
Carol Howell
Bank of Idaho
VP Commercial Loan Officer
"The Bank with a Heart"
Jane Ankerbauer
Nampa Direct Care
General Manager
"Nampa Direct Care is an accessible, affordable, age-based, membership-based, family medicine clinic."
Rob Graham
Express Employment Professionals
Link Porterfield
epic.network
Owner
"Providing IT business solutions for small businesses!"
Kristie Williams
St. Luke's Children's Pediatrics
Malena Pantoja
First Interstate bank
Financial Service Representative
"We help people and their money work better together!"
Judy Woods
Heidi Reece
Advocates Against Family Violence
Development Director
"AAFV works to eliminate violence and abuse from the lives of all individuals."
City of Caldwell Communications Specialist
Corey Turner
Destination Caldwell
Facilities Manager
Sergio Martinez
Idaho Press
Multimedia Account Executive
"News Worth Holding"
Michelle Serratos
Jame Sokoloski
Paige Shurtleff
Kellie English
Fairway Independent Mortgage Co.
Margie Potter
Omar Kamal
Amber Oquendo
Fairway Independent Mortgage
Estrella Pedroza
Franci Hettenbach
Jeremiah Mathot
CapEd Credit Union
Business Lending Relationship Manager
"It's more than banking. It's making a difference."
Jessica Frazier
Empire Title & Escrow
Escrow Officer
Miranda Weeks
Molly Traudt
Nicole Levi
Destination Caldwell
Communications Specialist
"Preserve. Build. Thrive."

2021 Ambassador of the Year
Brad Burbank, Allegis Financial Group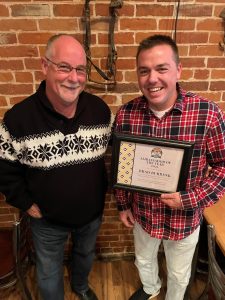 2021 Ambassador of the Year Runner-up
Bianca Stevenson, City of Caldwell